DRAGON RACING – DECEMBER/JANUARY 2022/23 – FESTIVE GREETINGS!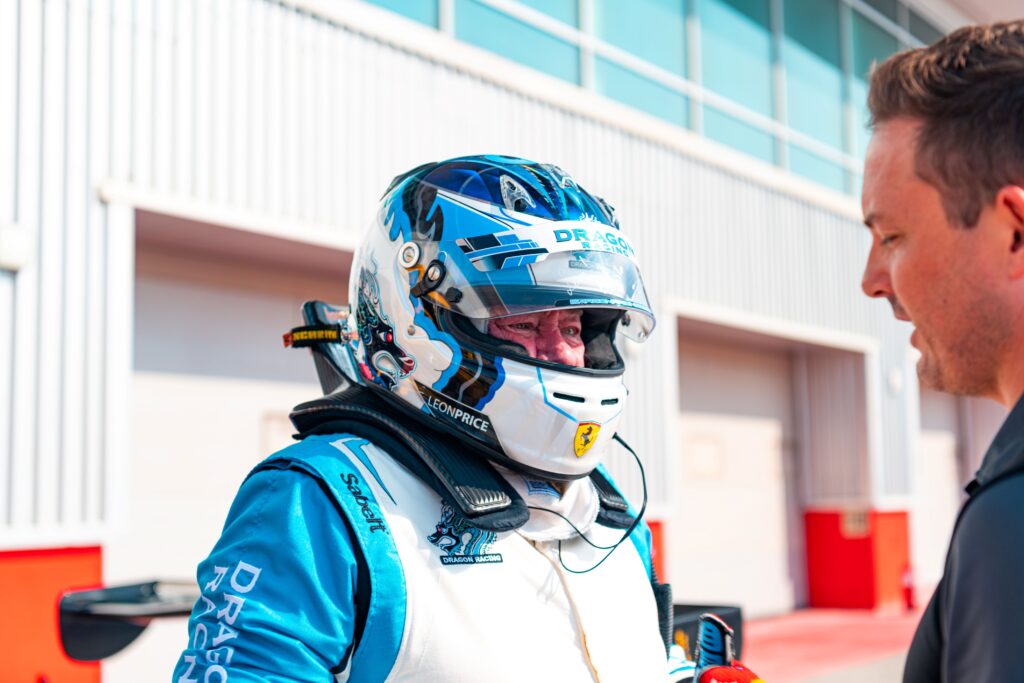 Our 2022 Final Year Review
Looking back on 2022 Dragon Racing enjoyed a wonderful expansion to its business – maximizing its presence in nearly every local motorsport and automotive event.
The highlight of course was the consolidation of our close relationship with Ferrari Middle East as their technical partner, and support for the Passione Ferrari Club Challenge Middle East events in the GCC.
2023 marks the 10th consecutive year of our entries in the Dubai 24Hour race. This year Dragon Racing will enter 2 AMG Mercedes GT4s – one of them under the joint Dragon-Rofgo banner to defend the title it holds from its win in 2022.
The renewal and expansion of our unique Dragon Test Days, now on Thursday (previously called Motorsport Wednesdays) adding many new members and dedicated track days into the calendar.
The addition of a new 5000 square-foot warehouse facility, which was fitted out with air conditioning, overhead fans and humidifiers – this facility is dedicated principally to house our customers' Ferrari 488 challenge race cars and has a capacity of 40 cars.
Dragon committed firmly to the Gulf ProCar Championship and always attempting to enter a minimum of five race cars in any particular meeting.
Two classic car restoration projects are in the pipeline– the ISO Rivolta 300, which has just been completed, and the Maserati Mistral, which is currently enjoying a full restoration.
Our website has been totally revamped, modernized, and updated.
These incredible achievements are thanks to my CEO Brad Fincham, our Marketing Manager, Jake Carlin, and the team of Dragon professionals supporting them.
We have many more new and exciting projects coming in 2023, which we will share with you as we go throughout the year.
Wishing you all a very prosperous 2023.
Let's hope for less COVID, more economic growth, and greater peace everywhere in the world.
Leon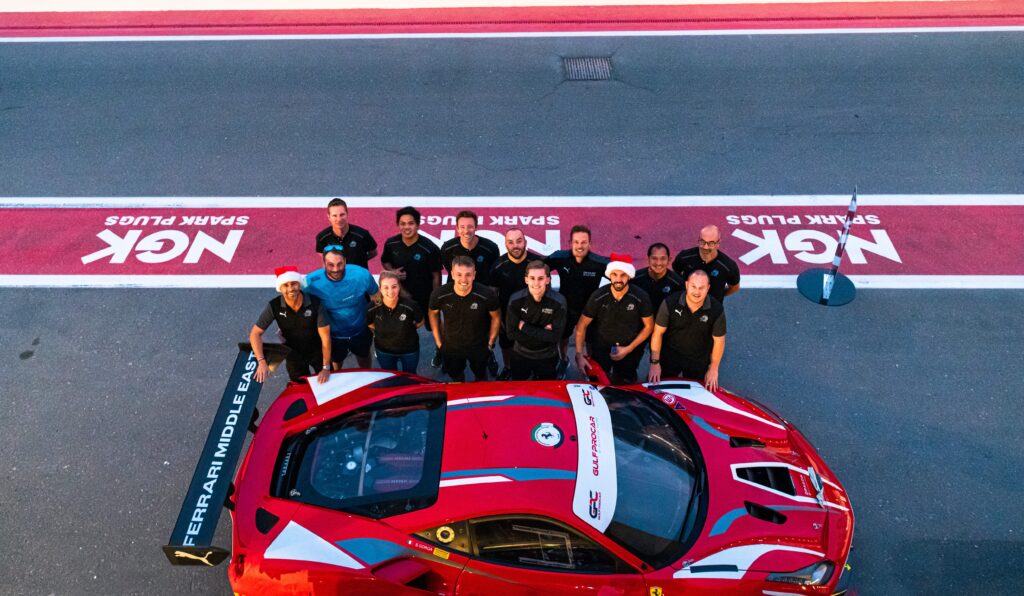 GULF PROCAR CHAMPIONSHIP – ROUND 1
DUBAI AUTODROME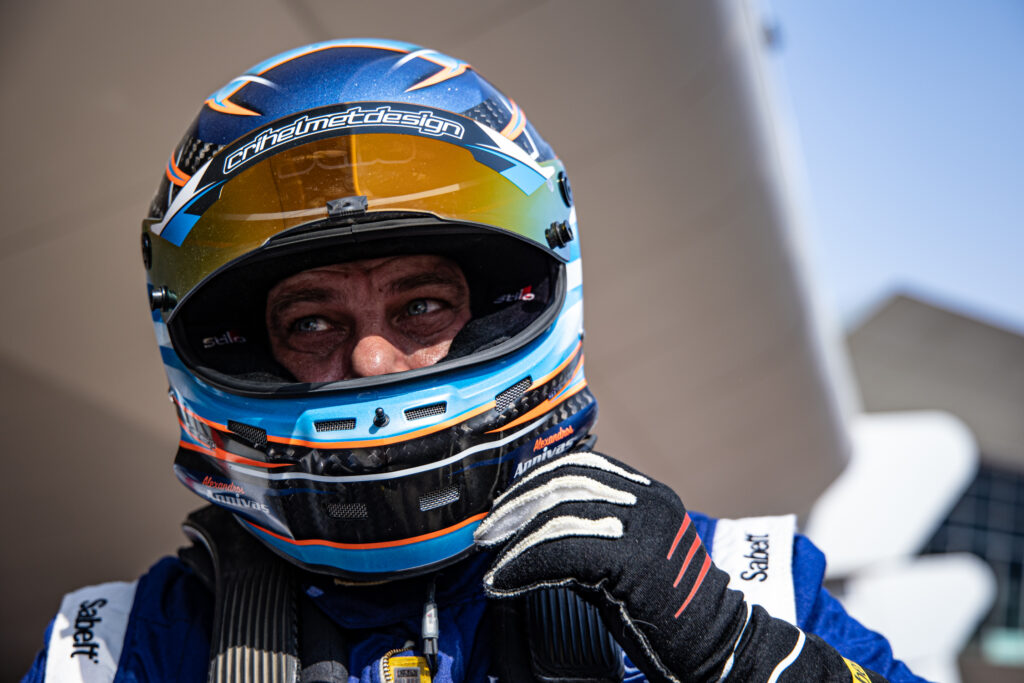 The Gulf PROCAR Championship commenced this year in the middle of October- promoted by Gulf Sport Racing, who thanks to their massive effort and great influence in the UAE motorsport environment managed to field a starting grid of 19 cars for the opening event.
Dragon entered three cars in round one with familiar face Jim Geddie in his new 488 Challenge Evo,
Alex Annivas returning in his Cupra TCR, and new racer to Dragon, Sebastian Gorga in the Dragon Racing's AMG GT4.
Jim in his very quick 488 Challenge EVO easily claimed pole position with a time of 1.27.50.
Alex drove aggressively to claim third position with a credible time of 1.31.46.
Sebastian in his first ever race qualified fourth with a time of 1.32.64.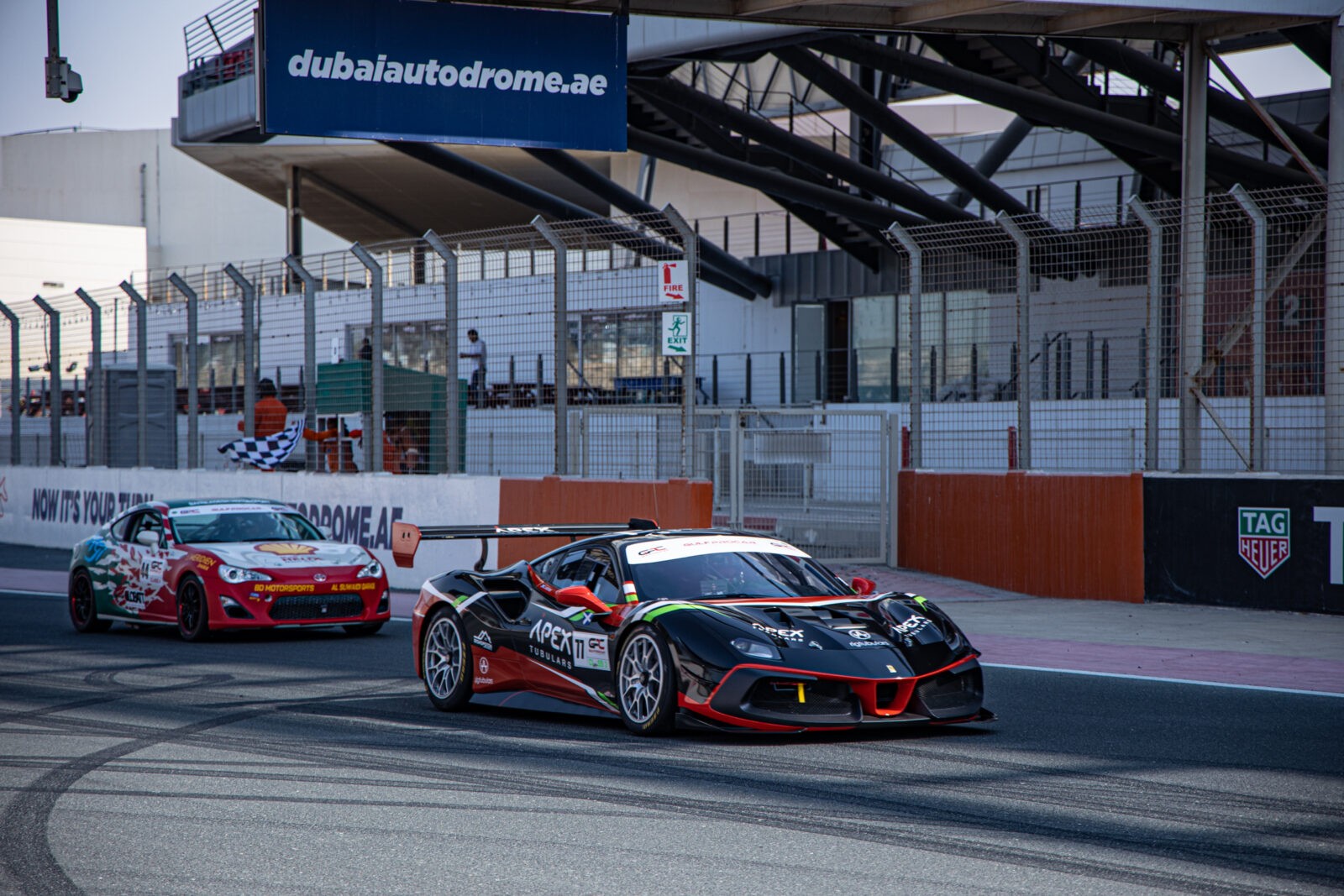 From the start of the race, Jim was in full control out at the front, climbing to the top spot on the podium on his racing return in the UAE.
Alex maintained a quick and consistent pace to maintain his third position; Sebastian had a good first race, finishing in fourth position and with a faster lap time than the Porsche GT3 Cup of Wolfgang Reinl.
A few hours break and the Teams were back on the track.
The Ferrari 488 Challenge EVO was leading the pack once again and the Cupra TCR fought till the end, confirming the same overall podium as Race 1.
Not the luckiest start for Sebastian – onboard the Dragon AMG GT4 – who when running in second position, was forced to retire from the race after only a couple of laps due to a technical failure.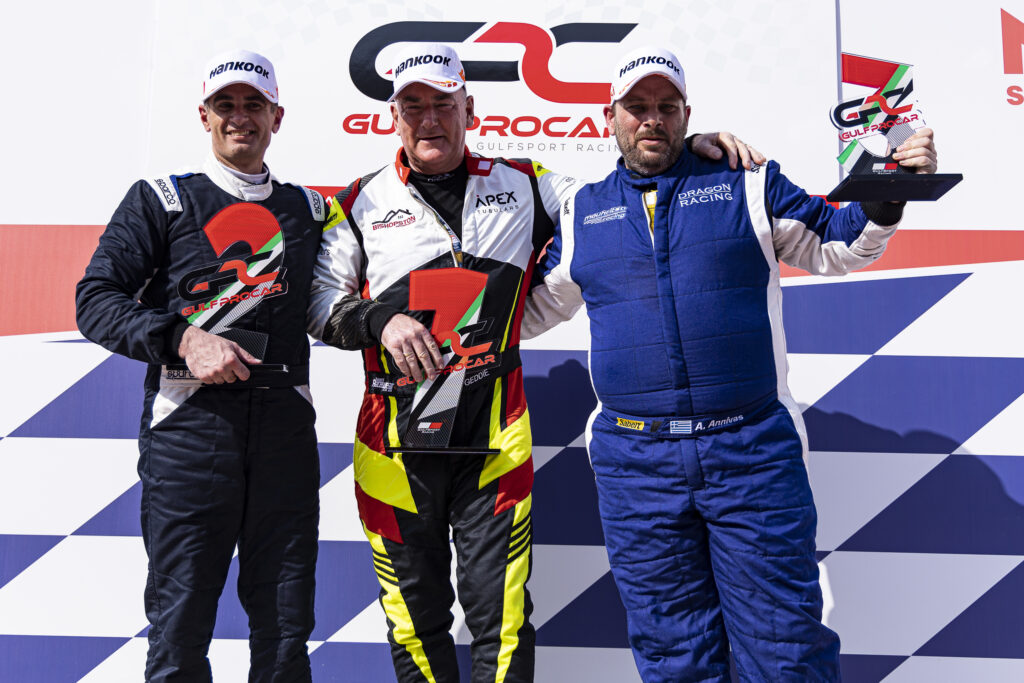 GULF PROCAR CHAMPIONSHIP – ROUND 2
DUBAI AUTODROME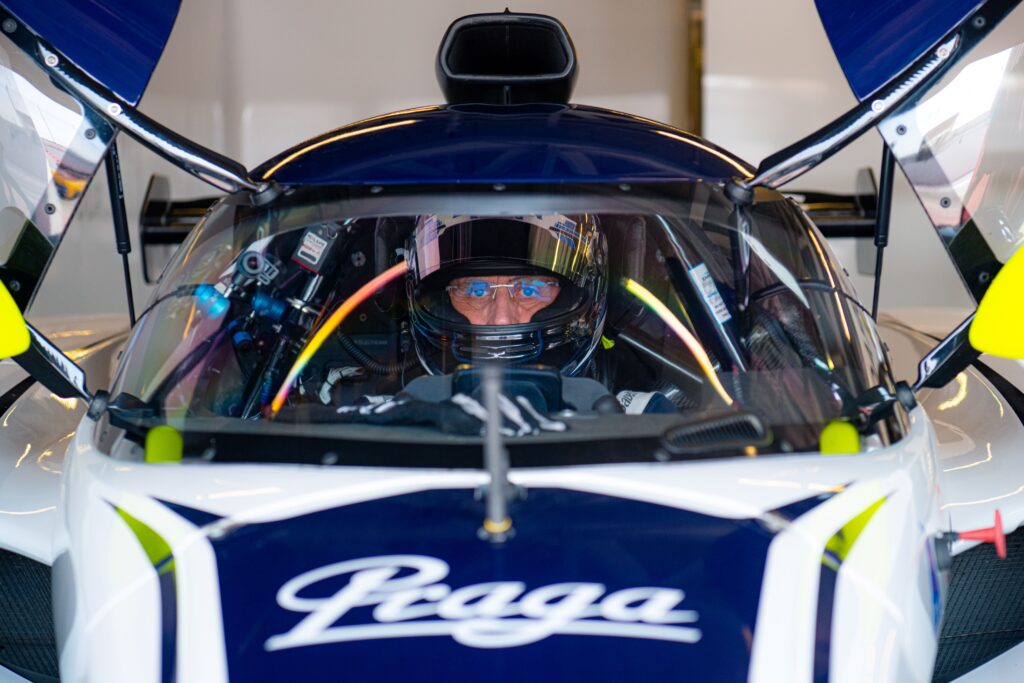 The second round of the PROCAR championship returned to Dubai Autodrome at the start of November.
This time, our Dragon Racing driver Ian Roberts, returned driving his super lightweight and fast Praga R1T.
This provided an increased competition for Jim Geddie, on board the Ferrari 488 Challenge EVO, who previously claimed full victory in Round 1.
Starting from Quali and right through Race 1 into Race 2, the battle for first place was not easy. Ian's calm approach to overtake the 488 Challenge EVO after the start which ultimately led to two outright victories and Jim's tenacity took him to finish both races in second place, however first place in Class 2.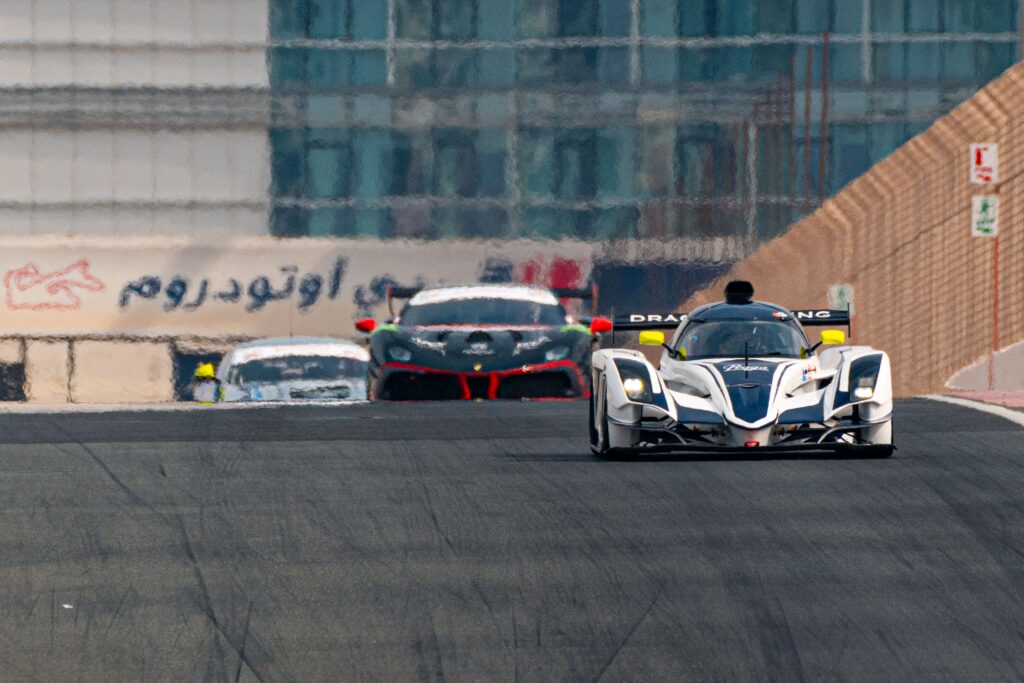 Also, our Dragon driver Alex Annivas had his own challenge when his number one TCR class competitor, Rene' Munnich returned for Round 2 of the PROCAR Championship.
Some incredible on track duels between the pair with Alex securing second spot in class during both races and narrowly missing the overall podium.
For Sebastian Gorga, being the only driver in Class 3 for this round, it was a great moment to put into practice all that has been learnt and prepare for round 3, his debut in the 488 Challenge EVO.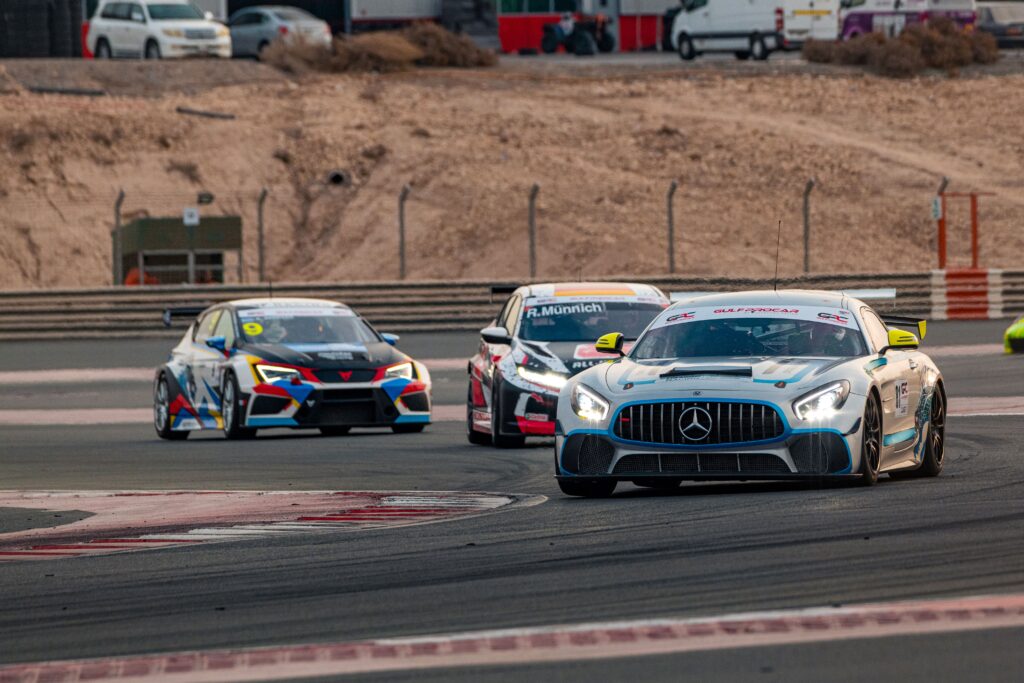 GULF PROCAR CHAMPIONSHIP – ROUND 3
DUBAI AUTODROME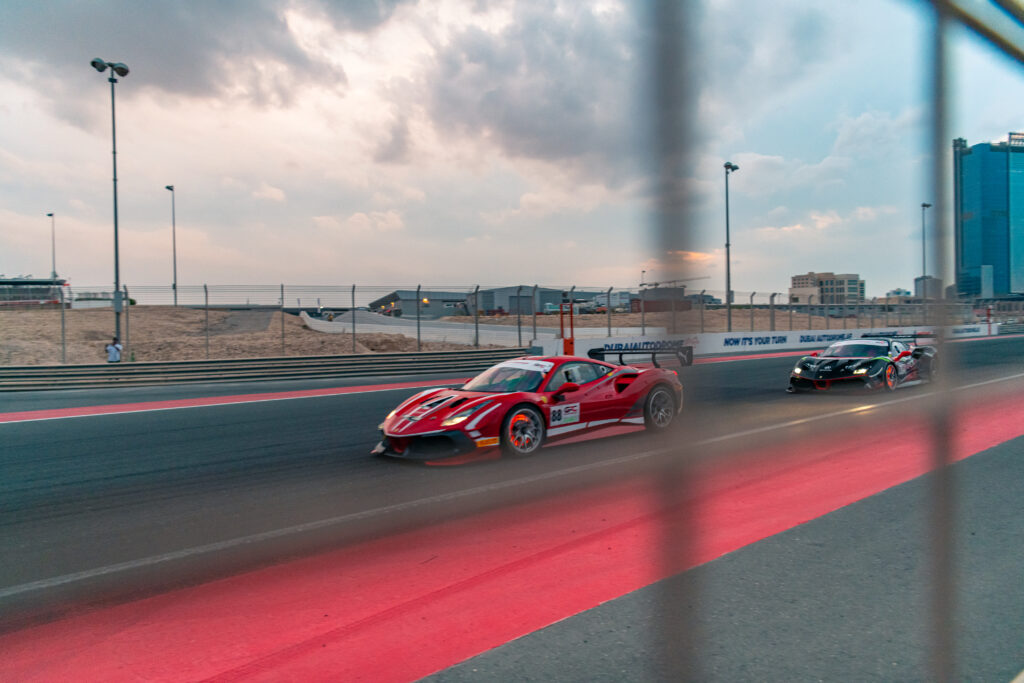 At the halfway stage of the Championship, we saw our Dragon Racing driver Sebastian Gorga change from a Mercedes AMG GT4 to the Dragon Racing Ferrari 488 Challenge EVO for Round 3, making things slightly more challenging for our other Ferrari driver, Jim Geddie.
For the first live streamed round of the year, this event certainly captured the most excitement of the season to date.
Race 1 – saw the two Ferrari 488 Challenge EVO cars start ahead of everyone else and fight their own battle out front.
Jim pushing Sebastian to find a way past at every opportunity and trying to overtake him with maximum confidence.
Sebastian, ahead of the game, in the Dragon Racing #88 car, holding fearlessly onto his position.
Unfortunately at the halfway distance there was contact between the two cars and both retired from Race 1.
The Cupra TCR driven by Alex Annivas took the advantage, coming home first in Class and second place overall behind Munnich in the Honda TCR.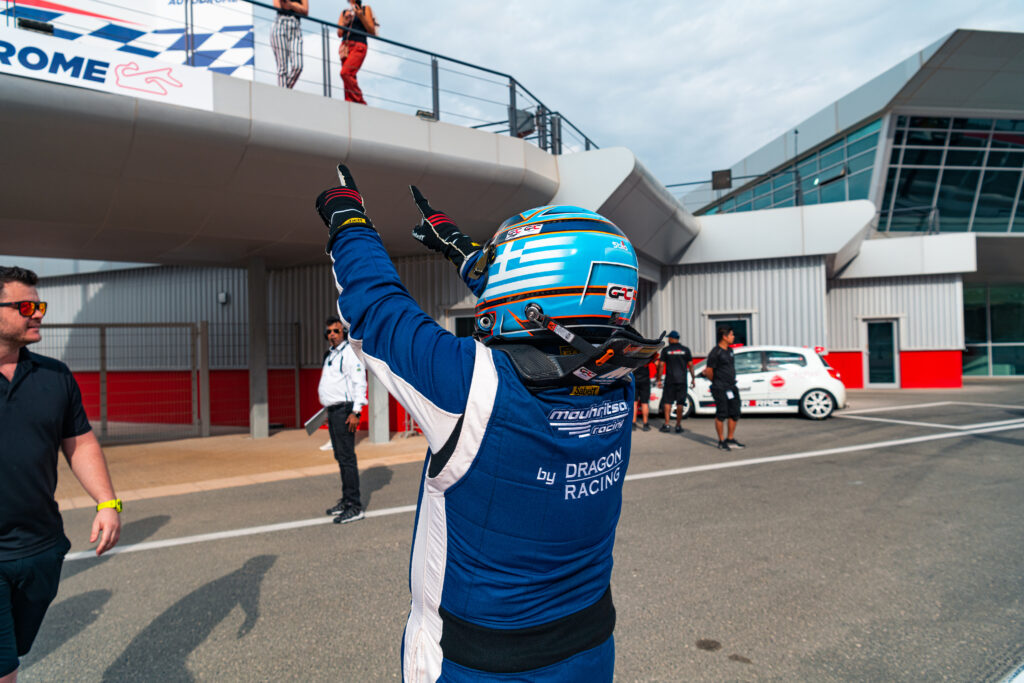 Our Dragon Racing Team worked tirelessly during the two hours break between the races, in order to get both Ferrari 488 Challenge EVO back on the grid for race 2.
At 17:00 the lights went green for what was a sensational 25 minutes of racing.
First place on the grid for Sebastian and fifth place for Jim, who immediately worked his way up to second position after the first lap.
Around the half way mark, Jim managed to pressure Sebastian and made the move stick putting him ahead.
The next 6 laps saw the drivers trade positions and make full use of the circuit limits to enhance every opportunity to overtake or make a break out front. At turn 6 with 3 laps to go Sebastian made the move on Jim which stuck, and saw Sebastian go onto take the win from Jim, claiming his first outright win.
Not the same opportunity for Alex in the Cupra TCR, who unfortunately retired with a failed driveshaft.
The next ProCar Championship, Round 4 will be on 6th & 7th January, preceded by our usual Dragon Test Days on Thursday 5th of January at Yas Marina Circuit. Don't miss the action where there will be 5 Ferrari 488 Challenge EVO's and the Praga all battling for the top step of the podium!
FUTURE EVENT DATES
January 2023:
Thu 5 / Dragon TEST Day 'DTD' / Evening / Yas Marina (5pm – 8pm)
Fri 6 / UAE Procar Race Weekend / All Day / Yas Marina
Sat 7 / UAE Procar Race Weekend / All Day / Yas Marina
Wed 11 / Dubai 24H Race Weekend / All Day / Autodrome
Sun 15 / Dubai 24H Race Weekend / All Day / Autodrome
Fri 20 / Passione Ferrari Club Challenge / Evening / Jeddah, KSA
Sat 21 / Passione Ferrari Club Challenge / Evening / Jeddah, KSA
Mon 23 / Public Track Evening / Evening / Autodrome (7pm to 10pm)
Thu 26 / Ferrari Winter Challenge Racing / All Day / Autodrome
Sun 29 / Ferrari Winter Challenge Racing / All Day / Autodrome
Get in touch for further details!